Hurricane Michael: One Year Later
Posted on 10/10/2019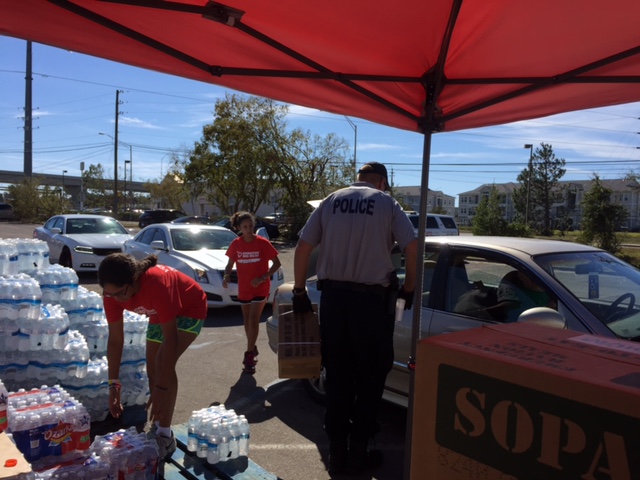 By Lucia Ceydeli
It's been a year since Hurricane Michael, the third-strongest hurricane in US history made landfall over the Florida Panhandle. I will never forget the day and will always remember the destruction this storm left in its path.
Hurricane Michael was the first intense hurricane I've been through. However, and unfortunately, I went through a traumatic event before it: 9/11. On 9/11, as I walked from Manhattan to my residence in Brooklyn, it was then that I witnessed what a community and a nation would do when faced with a traumatic event. We unite!
The people of NYC and the country came together and united to help one another get through one of the worst days in American history. As I look back on that day, I find similarities in how the people of the Florida Panhandle and people from the outside came together to help their fellow neighbors and strangers. Volunteers from young to old showed compassion by uniting to help those in need by offering a helping hand, food, water, shelter, clothing, security, prayer, or just a hug.
This is what "community" is all about. We are a community that came together for our neighbors by helping to rebuild the lives of those in need. Our community and wonderful volunteers showed physical and mental strength that gave people the will and encouragement to rise up during times of despair.
Although Hurricane Michael destroyed some of our homes, schools, and businesses and separated friends and families, our community as a whole refused to be weakened; instead, it was strengthened. We are 850STRONG!
We stood and continue to stand strong, and despite all the despair and destruction, there is hope. We are strong because people built one another up rather than think of only themselves. The storm brought discomfort, but after the storm, the community found comfort in one another. The Florida Panhandle is rebuilding, and we will be stronger and more beautiful than before. It's a sure thing: with love and care, only positive things will come. Love, faith, and hope to build strength—no storm can be stronger than that.
God Bless the Florida Panhandle! Moreover, thank you to the volunteers that helped and continue to help rebuild lives and our beautiful city. We are 850STRONG and open for business!
Plan your next visit to the Beaches of Northwest Florida and experience the beauty and the great people who live in it.
---
---