Panama City Beach Throw Some Shade on Me
Posted on 05/29/2022
By Lucia Ceydeli
At Shore Thing Beach Rental Supplies and Services, we are giving tips and delivering shade that protects you from the Sun's UV radiation. We care about our customers and want to ensure that you are comfortable and protected while visiting the most beautiful beaches, Panama City Beach and the Beaches of Northwest Florida. So, cover up, take shelter and Shore Thing will give you the beach essentials needed to shade and protect yourself from the sun while at the beach.
Sunscreen
First thing first, do not forget to apply sunscreen. The American Board of Dermatology recommends using a sunscreen that has a broad spectrum of sunscreen with at least a SPF of 30. Apply sunscreen from head to toe and reapply if you plan to spend a long day at the beach or outdoors.
Beach Tent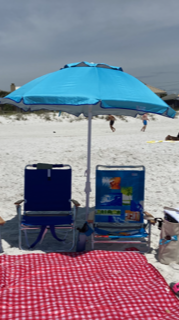 Sitting underneath a beach tent is a great way to shield yourself from the Sun's rays. Beach tents are easy to set-up, comfortable and provide privacy for a relaxing and a stress-free day at the beach.
Umbrella
Portable beach umbrellas are a great way to shade yourself during your time at the beach. Easy to carry and set-up. Beach umbrellas that have UPF50+ UV protection are available to rent at Shore Thing Beach Rental Supplies and Services.
Wear a Hat
Wearing a hat with a wide brim provides shade for your face, neck, and ears. It's also an effective shield against the Sun's UV rays.
Sunglasses
Don't forget to bring the shades as in sunglasses! Sunglasses are a must have when spending a day at the beach. It is very important to look after your eyes and wearing sunglasses is a layer of protection to protect your eyes from the Sun's UV rays. For the maximum protection wear sunglasses that block 99-100% UVA and UVB rays.
Come and visit the most beautiful beaches and don't forget to rent and throw on some Shade! See You at the Beach!
---
---